State-of-the-Art Compounding Laboratory
We feature a state-of-the-art compounding laboratory with specialized equipment such as an ointment mill used for intensive trituration and dispersion of ointments and creams which reduces particle size for better absorption into the body and a particle containment hood designed to provide maximum protection when handling potent compounds.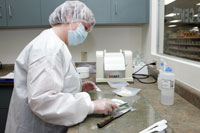 Our staff includes personnel specifically trained in the field of specialty compounding to ensure quality, safety and elegance of the final preparation. Our extensive database of products and formulations is vital to our problem solving ability to ensure stability of the final product and determination of expiry dates.
As a member of the Professional Compounding Centres of America (PCCA), Kelly's can customize medications to meet the unique needs of prescribers and patients in the Belleville – Trenton – Prince Edward County area. Compounding for dentists, veterinarians podiatrists, nurse practitioners, etc is also possible. The advantages of this service are endless.
As a compounding pharmacy, we can play a major role in the health care setting because of our ability to help solve the most challenging patient problems.
For example, many patients are allergic to commonly used fillers, dyes, binders and other additives that are a part of mass-produced medications. In addition, many medications are available only in limited strengths and dosage forms. Working with physicians, innovative compounding pharmacists are continually providing solutions to medication dosing problems, meeting patients' needs, and providing quality of life.
Kelly's Guardian Pharmacy is now a specialized compounding pharmacy located in Belleville.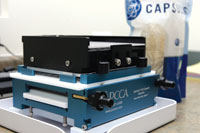 What benefits can a Compounding Pharmacy provide?
Customized dosing
Varying strengths, sizes and shapes
Dye free, preservative free, lactose free dosage forms
Custom flavouring
Provide for unavailable, unformulated or discontinued
items
Why can't my regular pharmacy compound my prescription?
A compounding pharmacy uses state-of-the-art equipment, chemicals, and advanced techniques to compound and ensure quality products
Other pharmacies do not have the information resources
necessary to "custom-make" your medications
What types of things can Kelly's compound?
Transdermal formulations
Flavoured suspensions
Topical creams and ointments
Capsules
Powders
Sprays
Lozenges
Veterinary formulations
Dental compounds
Sports medicine
Pain management